[The Christian method]is not, 'Set about imitating Christ, adopt His moral ethical teaching, and try to put it into practice'. It is not, 'Get away and become a monk or a hermit'. But just where you are in the midst of the world, with evil and sin rampant round and about you, and everybody and everything doing all they can to discourage you and to drag you down, just as and where you are, 'Be strong in the Lord, and in the power of his might. Take unto you the whole armor of God, that you may be able to withstand the wiles of the devil.' It is not retreat, it is not escape, it is not attempting something that is impossible. No, it is this supernatural, miraculous Gospel that enables us to be 'more than conquerors' over everything that is set against us.
D. Martyn Lloyd-Jones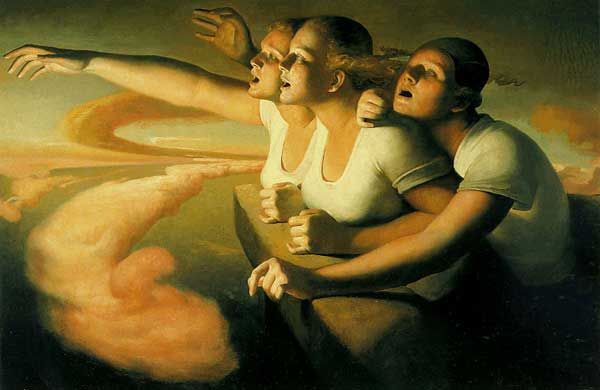 Return of the Sun
Odd Nerdrum, 1986
Yesterday, David stopped
in medias res
and said "Do you think we're under attack?" It was a weird question knowing him whose philosophy has always been that the flesh causes enough trouble in and of itself without any help from Evil. I thought about it, though, and I tend to think we are.
It seems that everyone we know (or at least many of the people we know) have experienced great loss or upset over the past few months. Our hearts are heavy as we consider all the suffering going on in our little church. And what are we to make of this? For the small Smith family, it is making us take to prayer with renewed vigor. We feel a compulsion to run to Christ like little chicks seeking shelter under the pinions of their mother as the hawk circles overhead. We know that no trial comes to us except that it has first come through Christ. We are encouraged to think that he uses these trials to bring us to himself, not to cut off our hope.
I love the hope exuded by Lloyd-Jones in this quote, but it makes me wonder what defense we have against Evil if we do not run to Christ, run to prayer and to scripture reading and abandon the faith we have in our own pitiful logic. Can't Evil warp and twist our own thoughts to work us woe? I think it can and does. Oh, without Christ revealed to us in Scripture
daily
, we have no hope. We respond to him in prayer and grow stronger. A friend of mine recently confessed that he doesn't care about the Scriptures and doesn't read them. I wonder how he avoids being overcome with darkness. I know that I could not. I know that I
do
not. And this drives me Home.
Dawn
Odd Nerdrum, 1990
Do you remember a time when you arrived at the absolute
end
of yourself? I do. It's a memory that sticks with me even as it fades with the passing years. I remember being absolutely poured out and empty before God like a sad little lonely little wrinkled balloon. I was totally without defense. My logic, my status, my physical strength had abandoned me. I know there is no strength apart from Him. I know it and my prayer is that I would not forget how desperate a person I really am. So often, suffering answers that prayer, but I know that if I am compelled by suffering to seek Him, he really is at work in me.