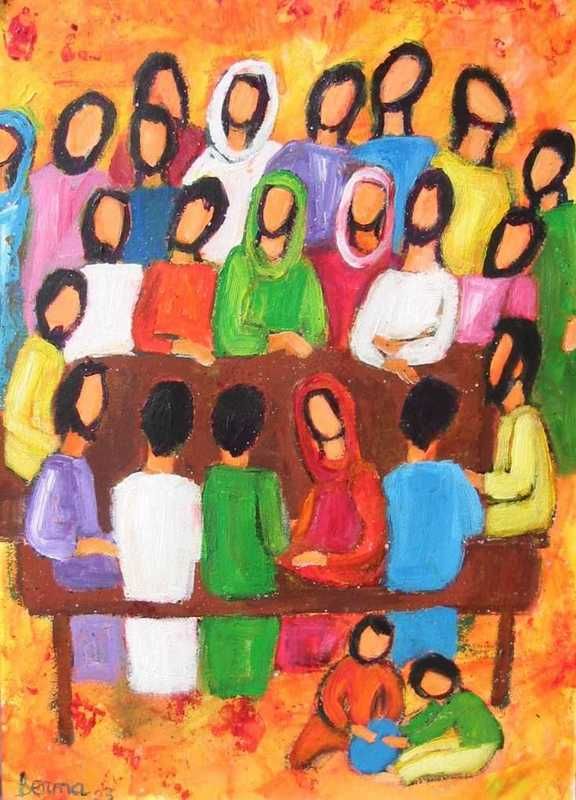 Lately, I've been wondering about the Communion of the Saints. I've been saying "I believe in the Communion of the Saints" as a part of the Apostles Creed since I was a child, but this is the first time I've ever been curious about the meaning of these words. (This is a two-fold shame. First, that I never wondered and second, that I was never told.)

What I found was an overwhelmingly pleasant surprise. I haven't been lying all these years. I really do believe in the Communion of Saints.

Communion of the Saints doesn't mean, as the Catholic Church says, that the Glorified Saints (those who are already dead) are able to pray for us and interceed to Christ on our behalf. No, the Communion of the Saints means something better. It means that Christians are bound together by love and have full participation in each other's gifts and graces. It means that we're in it together. It means we recognize our obligation to be a family to each other. It means we work together for our common good.

My soul is tied to yours. My gifts are there for you to use. My grace is shared with you and it's my responsibility to care for you and bring good to your life. And it's your responsibility to do the same for me.

I believe that the members of Red Mountain Church could benefit from a second-- or first-- look at the Communion of the Saints. I think it's one of our underpinning values. In fact, the Communion of the Saints and the belief that the Gospel changes everything might be the values we hold most dear. I desire to move toward a greater understanding of the Communion of the Saints and allow Jesus to weave that understanding in to the fabric of my life. It's beautiful. It's noble. It's true. I shall think about it.



All saints, that are united to Jesus Christ their Head, by His Spirit, and by faith, have fellowship with Him in His grace, sufferings, death, resurrection, and glory: and, being united to one another in love, they have communion in each other's gifts and graces, and are obliged to the performance of such duties, public and private, as do conduce to their mutual good, both in the inward and outward man.
Saints by profession are bound to maintain an holy fellowship and communion in the worship of God, and in performing such other spiritual services as tend to their mutual edification; as also in relieving each other in outward things, according to their several abilities and necessities. Which communion, as God offers opportunity, is to be extended unto all those who, in every place, call upon the name of the Lord Jesus.
This communion which the saints have with Christ, does not make them in any wise partakers of the substance of His Godhead; or to be equal with Christ in any respect: either of which to affirm is impious and blasphemous. Nor does their communion one with another, as saints, take away, or infringe the title or propriety which each man has in his goods and possessions.