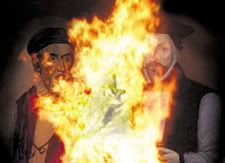 I've just read about Hugh Latimer and Nicholas Ridley, the English bishops who were martyred in 1555 during the rain of Bloody Mary.
I wept.
I didn't weep because they were martyred, I wept because as a Christian, I am not fit to occupy their heaven. I have neglected the scriptures for which they died and I have often forsaken the fellowship of believers. My brothers and sisters all over the world face death for their faith and I argue for
my
right to use the "f" word and drink beer. Such pitiful arguments among such pitiful Christians should shame us all into silence! YET WHY DO I CONTINUE SPEAKING?
Foolish me. What have I believed myself to be? I should heap ashes and dirt on my head and sit under a paper bag and lament the great sin of complacency that entangles me. These men are not worthy of earth and I am not worthy to be called "Christian" alongside them.
I am ashamed of my sin and I am ashamed of the opulence with which I surround myself. Oh to have done with lesser things! Oh, the legacy of which I cannot even conceive!
Jesus Christ, son of God, have mercy on me.