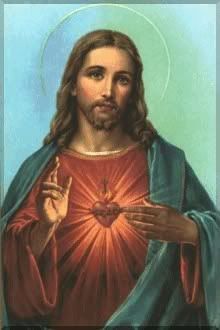 I spent the better part of this week in hospital waiting rooms doing all kinds of nothing with my mother and my sister. There is no day or night in a hospital. There is no way to gauge the hours as they pass. You count off Starbuck's lattes and churchy white-shirt visitors, but you can't remember what day it is or what you would have been doing if you were not here. Towards the end of the week, I could barely even remember who I am. I remember my identity by bowing to the icons of the life I've made. This comes as a frightening surprise.
It's a normal part of human development to wear identities like sweaters, periodically discarding and leaving them wadded on the floor of your mind's closet. You're selling a notion of yourself and people buy it. It's a firm deal and difficult to undo even after life leaves you naked to figure out who you are and who you were. And in this situation, as in so many others, the last comes first.
In the beginning, God was. The Light was with Him and the Light
was
Him. I think I might have been there, too. I knew something of God before I ever went to church. I think this Created Self is a mask for the self that was made by God somewhere before it got this body and this name. I have a feeling this Soul called "Susan" and this Soul called "David" met each other somewhere back in the darkness of a newly created world. I realize I
am
who He made me to be. The Bread of Life puts an end to all symbols. I realize I don't
need
an icon. I don't
need
an image. His atonement brings me the actual Christ with actual outstretched arms and I am an actual Soul in need of Him.
So, who would I be without my hair, without my clothes, without my friends, without my house, without my car, without my church, without my nationality, without my history? A Soul in His arms. And that's all I ever needed to be.
Something weird happened in the publishing of this entry, and I hope it didn't mess up your RSS feeds. If it did, I'm sorry. :-(