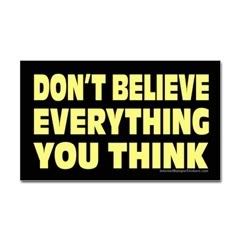 I must have seen 100 bumper-stickers on the 280 today. The life of a bumper-sticker must be exhausting (pun intended, yuk yuk). Out of thousands of stickers,
you the bumper-sticker
must be the one to grab attention and stake a claim on the image of your particular bumper's driver. You vie for position, sometimes scrambling to overcome the voice of the actual car. I see a late-model Lexus SUV with a "C The River" sticker. Intended message:
I'm upper-middle class, but dammit if I don't love the environment...despite the gas milage of this car.
Actual message:
"See this neato car Daddy bought me for graduation? You won't see me in a wimpy little Prius."
I see a Camry with a sticker for some obsure hipster band I've never heard of. As in the case of the Lex, the message is clear.
This car is middle-class vanilla; but I, on the other hand, certainly am not.
I even took the "Lucy Pevinsie for President" sticker off of my car because it became a screaming announcement of my church affiliation. (BTW, people in Georgia have those stickers. No kidding.)
This makes me tired. The constant striving to label, categorize and file away our very beings (often even using someone's corporate logo!) must be symptomatic of a *consumer-culture on the skids. The bumper-sticker is even used to
keep
people from slapping you with a label. Well, to keep them from slapping you with a label quickly, anyway. The FSM "fish" next to the flag of the Episcopal Church, for example, gives me a headache. Mix your metaphors if you must, but try and make sure they aren't mutually exclusive. Otherwise, you just make me think you're schizophrenic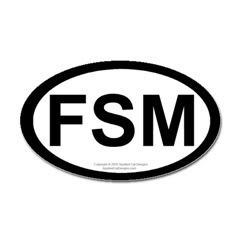 *Did you get that reference? If you were a **hipster music hippie like me, it would have been obvious. And nauseating.
**I haven't been a hipster music hippie since everyone listened to the Connells, but you still make me wanna walk like a camel.