Where we stayed.
David and I went to Chicago last week for my 30th birthday and for a meeting that happened to coincide. I'm finding 30 hard to deal with. We stayed in Streeterville on the Miracle Mile and it was incredible. We visited River North, Wicker Park, Lincoln Park, Wrigleyville and Chinatown. Mostly, we spent a lot of time on the El and a lot of time walking our little feets off.
David spent a day at the Chicago Board of Trade and at the Chicago Mercantile Exchange. I got to tag along to the Merc. Some traders from R.J. O'Brien took us on the floor and in the pits where they trade Eurodollars. (Can you name another girl who has been in the pits at the Merc? I think not.)
The Madness that is the Merc.



We also hit the Field Museum and the Chicago Institute of Art, Millenium Park and the Lincoln Park Zoo. The lions there were incredible because you can get so close. The male looked at me right in the eyes and my animal instinct made me get anxious. The female stood in the outdoor enclosure and ROARED. First time I've heard that. All of the animals there were performing. It was awesome and FREE. Can you believe that?

The Kovler Lion House the Lincoln Park Zoo. (It was built in 1912.)
Chicago is incredible. Really. Way better than New York because it's more accessible and friendlier. New York has nothing on Chi Town. And that's the truth.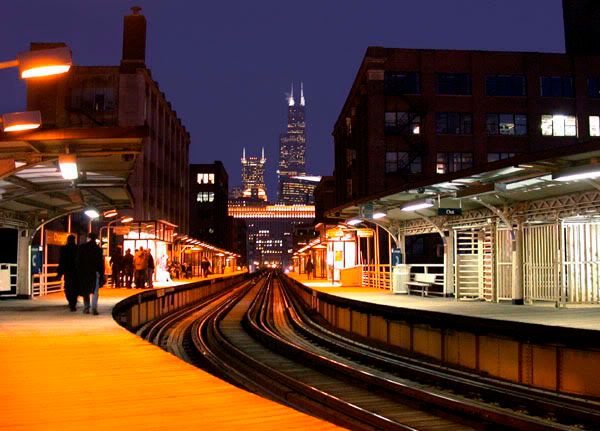 My new best friend, the Blue Line El.