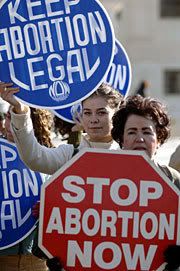 I think I will not be leaving the house. New Woman, All Women is a creepy place. I wouldn't take Corduroy Dog to a vet that looks like that. Every now and then, someone comes out of there on a stretcher and gets taken away in an ambulance with their medical charts pinned to their shirt. It is disturbing. Another thing that is disturbing about abortion clinics in Birmingham is that they kind of have a tendency to
screw-up abortions
. Operation Save America kind of creeps me out too, or at least Operation Rescue did. NOW also creeps me out. This is going to be a pretty creepy weekend, altogether.
Maybe we could get
NAMBLA
and PETA and James
Dobson
and Pat Robertson, too. It could be Birmingham's First Annual Convention on Crazy. Our entire city council could be some of the featured speakers. Valerie Abbot could give a speech about why she doesn't care about the crack houses in
Southside
, but writes silly letters to national chapters of silly fraternities when their members leave beer bottles in the yards of their unofficial houses. I always get so excited when we can entertain the nation with our crazy Southern antics.
Let's ketch us a rattlesnake. I hear them fat

uns

fries up nice.
Oh, and if anyone can tell me WHAT is going on in that video clip on the
OSA
blog, I'd appreciate it.
UPDATE AGAIN: When you get tired of Saving America, you can
Save Wal-Mart!
It's the same organization!
I'm done. For real. (If you subscribe to this blog, do you get an e-mail every time I update? If so, I'm sorry.)